Do yourself a favor and watch this CBS promo shot from 1981. When was the last time you saw an ad for The Waltons, Kenny Rogers America and Knot's Landing all at the same time?
Oh, and Kenny Rogers makes sure to include "Bette Davis Eyes" singer Kim Carnes and the Pittsburgh Steelers in this incredible mashup. From the picture, you can see Mean Joe Greene, Terry Bradshaw, Rocky Bleier and Lynn Swann. There's also a Gary Anderson-esque Kenny Rogers. And if the Youtube file is to be believed, this clip is from 1981. Bleier's last year with the Steelers was 1980, so this might be one of his last official duties as a member of the team. Awesome.
While I'm at it, here's an animated .gif I made so you can watch Terry Bradshaw's limp wrists and Kenny's fat guy-waddle over and over again. You're welcome.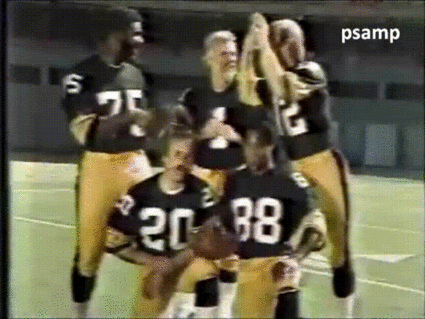 Video below.
***